50660 Romeo Plank
Macomb, MI 48044
CATEGORIES & HEADINGSdetails >>
Exterior Components / Accessories //
Maintenance / Storage //
At Sealtech Mfg. USA, we Manufacture the #1 RV Leak Detection System in the World!! Our machines are used by RV Manufacturers and savvy RV Service Departments across North America

If you own or run a Repair facility or a Service Department, and are truly interested in improving customer satisfaction, and generating income for your shop.... The New & Improved Sealtech 430-AL is a must have. This tried-and-true machine was patented back in 2002 and is being used, with tremendous success, throughout the US and Canada for over 15 years !
In fact, some insurance companies are now requiring a Sealtech test be performed before writing policies or insuring units. If you are interested in implementing this technology as part of your ongoing effort to provide innovative methods in helping your customers protect their RV investments.... You NEED a Sealtech 430-AL in your toolbox.

Right now we are offering the New & Improved Sealtech 430-AL leak diagnostic unit for only $3,995.00 with free UPS shipping any place in the continental United States !

PLUS... 1 Year FREE membership in the Authorized Sealtech Leak Testing Directory !
Vendor Showcase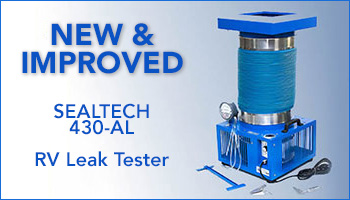 The SEALTECH 43O-AL makes ingenious use of a very simple fact: air flowing through an opening covered with a soapy water ("surfactant") solution produces a bubble precisely at the opening. The system draws outside air into the RV via the roof vent, where it is dispersed, creating a positive interior pressure. This pressure difference causes air to flow outward through any outer skin faults. The application of a soapy water solution to suspicious areas of the outer skin results in a very visible bubble exactly over each fault. read more