2455 N. Kiowa Blvd. Suite #102
LAKE HAVASU CITY, AZ 86403-2892
CATEGORIES & HEADINGSdetails >>
CJ's Generators and Small Engine Repair started in September of 1997, located in Lake Havasu City, AZ.
This company started out as a very small generator repair facility with a small parts department, providing repair and parts to local customers of recreational vehicles, houseboats and radio/TV stations. Then he found that many of Havasu's winter visitors needed a facility to get their generators repaired for their motor homes, fifth wheels and travel trailers. As we repaired generators, sold parts and provided employment for employees, the company kept growing. As the company gained a reputation of fairness and competitive pricing on both their labor and parts, more and more people relied on CJ's and the business kept growing.

For more information you can call us at 928-453-4484.
Vendor Showcase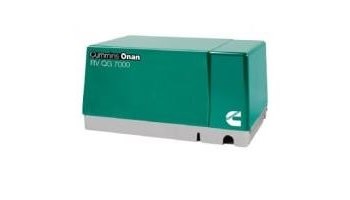 Cummins Onan RV QG 7000 EVAP

The Cummins Onan RV QG 7000 EVAP Gasoline Generator meets CARB Tier III and EPA Phase 3 standards and specifications required for all generator sets on trailers, diesel chassis or any other non-motorized mobile applications. The 50-state law requires an EVAP Generator Set, approved tank, EVAP canister, hoses, and fittings.

Perfect for fifth wheel trailers and camper trailers, the Cummins Onan QG 7.0 EVAP Gasoline RV Generator 7.0HGJAB-6756 runs two air conditioners with a 2000-watt baseload plus power to spare. Check the Specification Tab above for the Cummins Onan RV QG 7000 Specs.

RV Generator Set Quiet GasolineTM Series RV QG 7000 EVAP

The Cummins Onan QG7000 7kW Gasoline RV Generator meets CARB and EPA requirements in all 50 states for truck campers and trailered RV applications including fifth wheels and travel trailers. The generator set incorporates a digital voltage regulator, frequency regulation, a single pole 30-Amp Circuit Breaker, and includes 125-inch generator output leads plus a sealed remote start connector. The 7 HGJAB-6756 weighs just 299 pounds and has a compact design of 33.6 inches x 22.2 inches x 16.7-inches high.

Go RVing in our national parks without worry. The RV Generator Set Quiet GasolineTM Series RV QG 7000 EVAP meets National Park Service sound level requirements of 60 dB(A) @ 50 ft. Expect less than 68dB at 10 feet away—typical installations lower the actual sound level. Vibration isolation makes the QG 7000 EVAP operation exceptionally smooth and quiet within the full housing. The spark-arresting muffler, enclosed within the integrated housing and steel base, is USDA Forest Service approved.

Microprocessor control with diagnostics and troubleshooting features protection for overcrank and field overload, over/under frequency and loss of AC signal, mechanical faults, and starter faults. The RV Generator Set Quiet GasolineTM Series RV QG 7000 EVAP provides efficient operation and never requires decarbonizing. The generator set includes a replaceable air cleaner and automatic choke, fuel filter, and electric fuel pump with positive fuel safety shutoff. Remote rocker-switch starting from the remote panel with 12-volt 3-wire negative ground.

The Cummins Onan QG 7.0 EVAP Gasoline RV Generator 7.0HGJAB-6756 comes with a 3-year limited warranty which includes a free 90-day minor adjustment policy. The warranty covers all parts and labor (excluding routine maintenance) for the first two years, then major parts and labor on the drive train and generator parts during the third year. The 7000 EVAP 7.0HGJAB-6756 is also suitable for medium duty commercial applications with a 1-year, 1000-hour commercial warranty.

Package Includes the Cummins Onan RV Generator Set Quiet GasolineTM Series RV QG 7000 EVAP Manual.
read more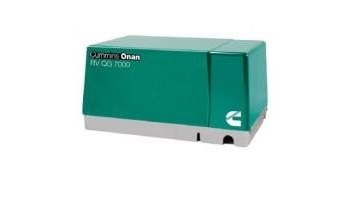 Cummins Onan RV QG 7000 EVAP

The Cummins Onan RV QG 7000 EVAP Gasoline Generator meets CARB Tier III and EPA Phase 3 standards and specifications required for all generator sets on trailers, diesel chassis or any other non-motorized mobile applications. The 50-state law requires an EVAP Generator Set, approved tank, EVAP canister, hoses, and fittings.

Perfect for fifth wheel trailers and camper trailers, the Cummins Onan QG 7.0 EVAP Gasoline RV Generator 7.0HGJAB-6756 runs two air conditioners with a 2000-watt baseload plus power to spare. Check the Specification Tab above for the Cummins Onan RV QG 7000 Specs.

RV Generator Set Quiet GasolineTM Series RV QG 7000 EVAP

The Cummins Onan QG7000 7kW Gasoline RV Generator meets CARB and EPA requirements in all 50 states for truck campers and trailered RV applications including fifth wheels and travel trailers. The generator set incorporates a digital voltage regulator, frequency regulation, a single pole 30-Amp Circuit Breaker, and includes 125-inch generator output leads plus a sealed remote start connector. The 7 HGJAB-6756 weighs just 299 pounds and has a compact design of 33.6 inches x 22.2 inches x 16.7-inches high.

Go RVing in our national parks without worry. The RV Generator Set Quiet GasolineTM Series RV QG 7000 EVAP meets National Park Service sound level requirements of 60 dB(A) @ 50 ft. Expect less than 68dB at 10 feet away—typical installations lower the actual sound level. Vibration isolation makes the QG 7000 EVAP operation exceptionally smooth and quiet within the full housing. The spark-arresting muffler, enclosed within the integrated housing and steel base, is USDA Forest Service approved.

Microprocessor control with diagnostics and troubleshooting features protection for overcrank and field overload, over/under frequency and loss of AC signal, mechanical faults, and starter faults. The RV Generator Set Quiet GasolineTM Series RV QG 7000 EVAP provides efficient operation and never requires decarbonizing. The generator set includes a replaceable air cleaner and automatic choke, fuel filter, and electric fuel pump with positive fuel safety shutoff. Remote rocker-switch starting from the remote panel with 12-volt 3-wire negative ground.

The Cummins Onan QG 7.0 EVAP Gasoline RV Generator 7.0HGJAB-6756 comes with a 3-year limited warranty which includes a free 90-day minor adjustment policy. The warranty covers all parts and labor (excluding routine maintenance) for the first two years, then major parts and labor on the drive train and generator parts during the third year. The 7000 EVAP 7.0HGJAB-6756 is also suitable for medium duty commercial applications with a 1-year, 1000-hour commercial warranty.

Package Includes the Cummins Onan RV Generator Set Quiet GasolineTM Series RV QG 7000 EVAP Manual.
read more